We've put together a list of ideas to really make the most of the half term with your little ones. Whether you have just a few hours to spare or the whole week to fill we've thought of a few activities to suit everyone.
As the nights draw in and the weather chills off it's important to get outside and make the most of the Autumn sunshine. So we'll take you through the outdoor activities before our cosier indoor ideas for those rainy days.
Forest Walks
As mentioned in one of our previous blog posts, there are so many benefits to getting outside and taking a walk in the woods, but as the leaves change colour and float down from the tress there's something extra special about it at this time of year.
Plan your route and take your wellies for stomping in puddles and jumping in piles of crunchy leaves! You could even take a bag for collecting chestnuts, these can then be roasted in the oven for a yummy healthy treat later. Don't get Horse chestnuts and sweet chestnuts mixed up though as you can't eat Horse chestnuts!
Sweet chestnuts have a shell with needle like spikes- Good for eating
Horse chestnuts have small spikes that are further apart – Not edible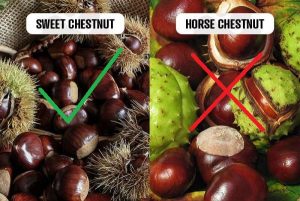 Apple picking
Find your nearest 'pick your own' orchard and go and pick your own apples. Every apple will taste better when you've done the hard work! Why not bake a pie or make a crumble with the apples when you get home for some more quality time together.
Make Pine Cone Bird Feeders
If you've got a creative child, then creating bird feeders out of pine cones is great way to get the whole family involved in a project and invite nature into your garden. Follow this link from the RSPB to learn how to make simple feeders that the birds will love: https://bit.ly/3jmZWtL
Stargazing
This time of year is fantastic for stargazing, on a clear night you should be able to see hundreds of stars including the Aquarius, Aries and Pisces constellations. Make sure you wrap up warm with a scarf and a hat, put a blanket on the ground and snuggle up together with a pair of binoculars. Make the evening that little bit more special by roasting marshmallows over a fire or candle, this ones always a winner with the kids!
However you chose to spend your half term we hope you have a great time and we look forward to seeing you back at school soon.