A message from us
We are very grateful for the commitment, dedication and hard work of staff – both for those of you working directly with the pupils and also those of you working 'behind the scenes' in the admin, maintenance and other support teams. You continue to put the children first and to ensure that we have been able to provide an effective education for the children.
We are mindful that the past few years has been a challenge for us all and we recognise that some information about how to support mental health and wellbeing might be helpful for members of staff.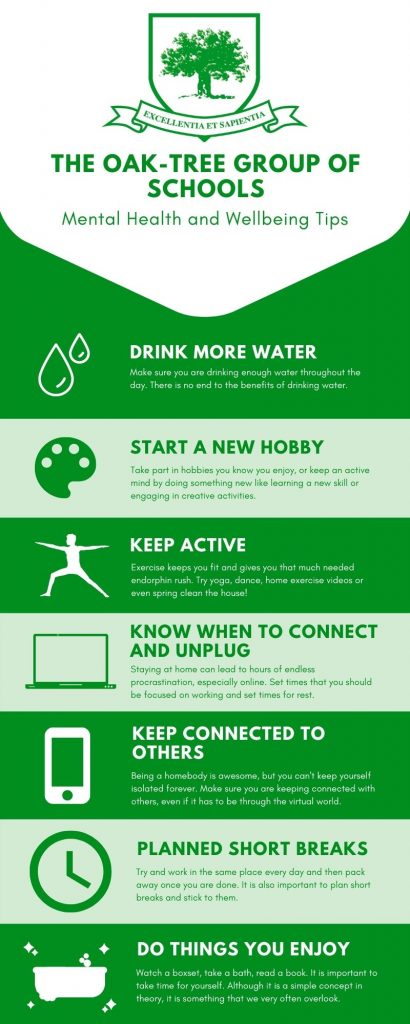 Support for Staff
The Senior Leadership Teams and the staff at Head Office are available to support staff if you have concerns. Sharon Hewitt, Claire Osborn and the Heads are all trained in mental health and wellbeing support. There are also other 'mental health champions' in each school who you can chat with.
Please do talk to one of us if you need to so that we can work together to help you to overcome the mental health and wellbeing challenges caused by Coronavirus.
Podcast of the Month
Mindful In Minutes

by Kelly Smith + Yoga for you
Short, weekly guided meditations to help you find mindfulness in simply minutes. Join Kelly Smith, founder of Yoga For You, for simple and grounded meditations that help you with real life issues like anxiety, insomnia, self-esteem and manifestation. All meditations are 20 minutes or less bringing you what you need to find mindfulness in just minutes.
Blog post of the Month
3 Mindfulness Tips for When Life Gets Hectic

The Mindfulness Project Blog

Wouldn't it be lovely if life was just a gentle unfolding of events? If work and family stuff and exams and big changes were all neatly spaced out and we never had to think of more than one thing at once?
Book of the Month
The Self-Care Project

By Jayne Hardy

How to let go of frazzle and make time for you

There's a damaging misconception in society that putting ourselves first is an act of selfishness. But self-care is not just a millennial buzzword. Without the restorative power of self-care, how will we ever escape the vicious circle where we're sick and fed-up of feeling sick and fed-up? Self-care is a tool, accessible to us all, which helps us to take responsibility for our own happiness – our physical, emotional, psychological and social needs. Jayne Hardy, founder and CEO of The Blurt Foundation, argues that it is the best preventative measure available to us to combat overwhelmedness, stress and ill health, in our hectic, modern world.
E-book
How to look after your mental health using mindfulness

Mindfulness is a way of paying attention to the
present moment, using techniques like meditation,
breathing and yoga. It helps us become more aware of our thoughts and feelings so that, instead of being overwhelmed by them, we're better able to manage them.
Practical Tips
Plan your day and follow a routine
Without a set timetable to break up your day, you can quickly lose focus.  To stay on schedule, segment what you'll do and when over the course of the day.  Use your online calendar to create personal events and reminders that tell you when to shift gears and start on new tasks.  Try to pepper your day with calls and online check ins so that you don't feel lonely.  Consider doing less enjoyable tasks first thing so that you can 'reward' yourself with the tasks you enjoy later on in the day.
Make it harder to waste time on social media
Social media is designed to draw you in and keep you browsing. To counteract your social networks' ease of use during work hours, if you are using your family computer or iPad consider moving your favourite apps into a folder so that they are out of site and perhaps disabling notifications during working hours.
Prioritise: write a 'To Do' List
Using a daily or weekly 'To Do' list can really help with self-motivation.  Use your list to sum up the day you've decided you'd like to have tomorrow. Take ten minutes before you stop work every day to make the next day's list – give yourself something to be excited about or that you can look forward to completing each day.  Prioritise no more than three biggish tasks, and don't be afraid to have a secondary list on a different page with things that need to be done, but not necessarily tomorrow.
Avoiding isolation – Have daily catch-ups
It's easy to get through the day without speaking to anyone, but as social animals we all need a regular amount of human contact. Arrange a telephone or video catch-up with your team, perhaps at the same time every day. It sets a habit of talking to others and will invigorate you. Make sure there's time at the beginning of the call to just chat about non-work matters, to keep our friendly connections strong.
Avoid multitasking and stay focused
It's easy to start one project and then bounce to another without finishing the first.  Discipline yourself to focus, stay on task and accomplish a certain number of tasks every day. Some days you will be more productive than others, but overall, you might find you are more productive than you used to be.
Maintain a healthy lifestyle
Make sure to schedule time for regular exercise, keep healthy snacks around the house or place of work and remember to drink a lot of water.
Take regular breaks
Try to allow yourself time to get up from your work to stretch. This will really help you both physically and mentally, and if you take breaks you'll be more productive. You could even set an alarm if you think you might need reminding to take a break!
Get out
Depending on the lockdown restrictions, it is important to move about outside and get some fresh air. Energy levels dip after lengthy periods of time sat at a computer, so get into the habit of going outside at least once a day. Open a window to get some fresh air in while you work, and when you are outside when it's sunny, you may be restoring some of your vitamin D!
Share any concerns
Most new experiences feel uncomfortable at first, until you have established a routine. Let your line manager, an SLT member or your head know if you are feeling overwhelmed. Share some of the positives you experience with your colleagues to see what you can learn from each other.
Useful Resources